A family-owned and operated company.
Wood Door Manufacturers for Hand crafted Custom Designed Wood Doors
Welcome to Westwood Interiors! Let us introduce ourselves as the leading woodwork manufacturing company in Pakistan. We may be new to you but with steady growth and encouraging demand, we now specialize in providing doors that are closest to perfection.
Our team of door experts attends greatly to the details and precision which extends through everything we do. Ranging from glazed and matte doors to the finest quality of cabinets and closets, we have something for every budget!
With this being said, we offer customization as well, thus providing a solution via a smart budgeting paradigm. In all these years, we have built a strong connection with our customers thus every new launch at Westwood is designed to meet quality and budget requirements for all!
Are you somebody who loves the delicate style of doors for your place? If yes, then glass wooden doors are the best choice for you!
Westwood utilizes high-end materials for these doors. A perfect combination of glass and wood. Thus, are ideal for use in guest rooms and Kitchen. Moreover, with a varied range of glass styles, the appearance can vary as per your liking!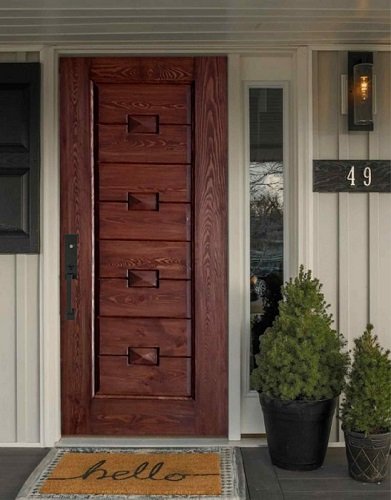 Panels are strikingly back in trend! Yes, you've heard it right. Panel doors by Westwood look very distinctive and give a very strong and solid appearance to the entrance.
Ideal for use in the bedroom and entrance gives a very royal vibe to the place. It's among one of the most propelling wood room door designs in Pakistan.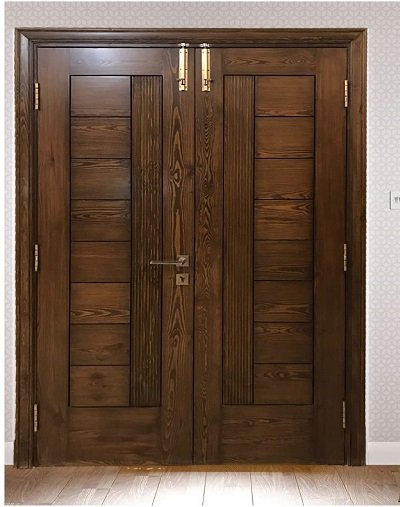 Classic wooden doors result from a perfect combination of wood and metal. Delicately designed wood with fine stripes of metal all, make these doors ideal for bedrooms. Either single or double doors, these are the most widely preferred wooden doors in Islamabad
Quality Wooden Doors in Pakistan
Doors are the gateway to your place! Whether it be your home, office, or any other place, giving some time in selecting the right door is really important.
Since Doors are functional elements of your place, they need to look good. While you decide to revamp your place with new doors, make sure to have enough understanding of their functionality and durability as well.
It is so because no door can ever beat the class of a wooden door. Selecting the right wooden door for your place can have a significant impact on how your place is presented to visitors.
Skilled Designer & Carpenter
Our craftsmen have the required skills, knowledge and experience to make your dream door.
Fast Turn-Around
At master doors we know that time is money; therefore we constantly try to meet your deadlines while maintaining our high standards of quality.
Highly Experienced
With decades of production experience, we are insure your 100% satisfaction.
Reasonable Price
Master doors offers very reasonable price. With saving in our monthly cost allow us to forward the cost saving to our client.
Wooden Doors in Lahore
Bring a sense of warmth to your place. Therefore, Westwood should be your go-to place for exclusive quality wooden doors in Pakistan.
With just the right amount of style and elegance, Westwood provides top-notch quality wooden doors in Pakistan. I know what you might be thinking! Prices are always the first thing to intrigue us all. But let me be completely honest with you!
Depending upon the functionality, usage, and location of the door, the prices vary significantly. However, when it comes to Westwood, we are providing a unique quality of wooden doors at an attractive price range. The price of a wooden door in Pakistan starts with Rs. 850 Sq. / ft. Read ahead to know more about it!
Wooden Door Price in Pakistan:
We know you might be confused with the junk of information available around. A never-ending list of designs and style are obvious to make you jumbled about the decision.
But, let me tell you, your budget is one of the most important factors to determine, what type of door is best for your place. Imagine having a luxurious wooden door in mind! Having that made under a poor budget will always end up looking peculiar.
This is why Westwood is your savior! Intending to bring innovation in the niche of door manufacturing, Westwood offers customization facilities to the clients.
Now, you can get your ideal designs made under your preferred budget through customization. With the use of imported quality wood in the manufacturing, Westwood provides high-end and unique doors to the clients.
Even though the solid wood door price in Pakistan varies with the material but Westwood has got your back! The price of a wood door in Multan starts from Rs. 850 Sq. / ft.
Imported Cale, Mahogany, Deodar, and white pine, etc. are some of the materials Westwood utilizes for all its products.
Deodar and Mahogany being ideal for humid areas are more prevalent in Karachi and Islamabad. Consequently, the price of wooden door in Karachi and the price of wooden door in Islamabad varies with the material.
Different Styles & Designs of Wooden Doors in Pakistan:
With modern trends transitioning the style of living, doors are not only a simple matter of functionality. People are now seeking style and modesty in wooden doors as well.
In terms of aesthetics, no other type of door looks as cozy and attractive as that of a wooden door design in Pakistan. Westwood has sorted out some of the leading designs, all across Pakistan. Have a look at the following catchy styles:
Why Choose Us?
Are you tired of contemporary door designs? Well, Westwood can be your next go-to place for door manufacturing. By being highly consistent with modern trends, we offer the newest design with an opportunity to get customization as well.
Our services extend out in entire Pakistan. For any further queries, you can contact us on 92-300-389-4217 or visit G3, Jinnah Mall, Izmir Town, Main Boulevard Jubilee Town, Lahore, Punjab, Pakistan