Entry Doors Pakistan
Who doesn't want their home to look lovely? We all strive really hard to see our house reach the maximum potential of being beautiful and receive all the praises. 
For many people, wooden front doors serve as the basic element to achieve the type of outlook they have in mind. No matter which type of wood you use, one can always find a peculiar class and grace in the wooden door as the main door for the house.
To understand the legacy of wooden entry doors in Pakistan, it's important to know that other manufacturers are now trying to mimic wooden main doors for homes. By utilizing steel, plastic, Pvc, etc., many manufacturers try to gain the same outlook, which is impossible to replicate exactly. 
Though all materials are suitable for the entrance door, a wooden door offer advantages which are much more valuable and greater in number than any other material.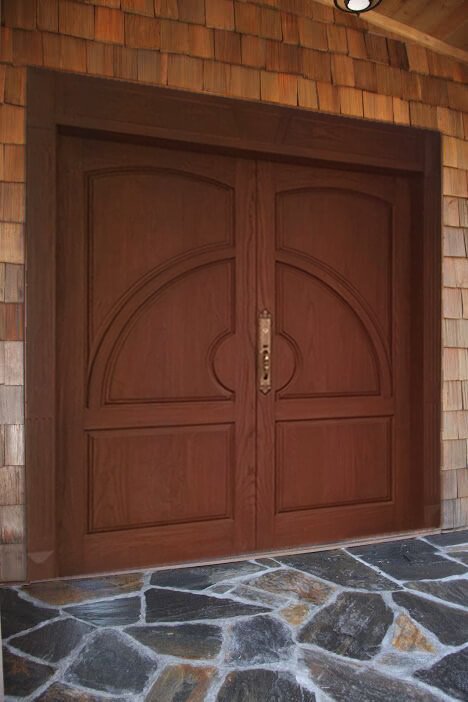 Wooden entry doors in Pakistan are famous for their appealing aesthetics. It is now being considered the most attractive material for the entrance door. Wooden entry doors come with multiple species, which can either be painted or polished in customizable shaded. Sounds really fascinating! 
Do you want to know more about captivating designs? Read ahead to learn more about entry doors in Pakistan!
Modern Wooden Entrance Door Design
When it comes to wooden entrance door designs, there are majorly two types of styles. For a smaller-scale house, a single house front doors uplift the outlook. However, in the case of grand houses, double front doors are the best choice for a balanced outlook of the house. 
Have a look at the following designs, which can be customized in both single and double doors by Westwood Pakistan. 
Grilled Double Door Design:
Front doors are what attract visitors the most. Thus to make a lasting impression, opting for a double wooden door is always the best choice. 
A modified version of the plain wooden door now comes as a grilled door. This eye-catching door is made with grilled panels in the middle of both doors. A textured wooden background paired with grilled work creates a very stylish outlook for the front door entrance. 
Glass Wooden Door Design:
If you want to change a boring door into something exciting, this is the right choice for you! This design is ultimately the same as the paneled door, except for the change, which includes translucent glass in place of panels. 
This might not be a durable exterior door due to sensitivity but can be secured with greater vigilance. 
For your comfort, Westwood can customize all of these designs as per your requirement. All doors are available in imported Kail, white pine, ash, and Mahogany wood, etc. You can add a polish shade of your choice as well. 
Why choose us?
Westwood is the leading company for wooden door manufacturers in Pakistan. It believes in giving the clients a free edge for their creativity and offers customization as well. Our quality and trusted reviews are what speak for the pros of choosing us.  For further queries, contact us on 92-300-389-4217 or visit us.
Fill in the form below to request a callback to discuss your move.
[contact-form-7 id="694" title="Request Callback"]
We aim to respond to all quote requests within a 24 hour period Monday-Friday. However, if this isn't the case, please be patient as we receive a lot of emails every day.
[contact-form-7 id="311" title="Free Quote"]
Which of Our Doors is Right of You?

Check Out Some of the Products We Carry