House Door in Pakistan
A question we receive most often from the homeowners is what type of door is best for the main house door? Let me be honest with you! Solid wood doors are the preferable choice for house doors. Do you want to know why?
It is very easy to notice why wooden doors are impeccable for their use as house front doors. Due to its tough nature, solid wood doors stand the toughest of the time and protect your house from the outside. 
Apart from their resilience, wooden doors withstand the longest of the time; that is why they are renowned as the highest quality doors available all across Pakistan. 
The house entrance door also stands as a symbol to represent the entire outlook of your house. Therefore, it should look appealing as well. Solid wood house doors in Pakistan add style and character to the outside. 
Who doesn't want the first impression of their house to be awe-inspiring? When treated and adjusted appropriately, wooden house doors create a beautiful element while adding charm to your house's entire outlook. 
Since entrance doors are more prone to scratches, dryness, and loss of shine and luster, they have to be of a material that can withstand the environment's harshness. Compared with other available materials such as iron and PVC or glass, wooden doors are capable of protecting your home with beauty and elegance. 
If damaged, wooden house doors in Pakistan are easy to repair and are very low maintenance as compared to other delicate types of doors available in the market. 
Being the top manufacturers of wood doors, Westwood Interiors can help you get your house doors in Pakistan customized as well. Since Personalization of everything has become a major trend, customized solid wooden doors for your house is a choice worth making!
House Main Door Designs
Are you looking for trending and new doors for the house? Well, here are some of our top loved designs which are best suitable for main house doors!
A perfect way to give your home a modern vibe is to add the main door, which is different from usual. A geometric design of the door is ideal for the front door of the house.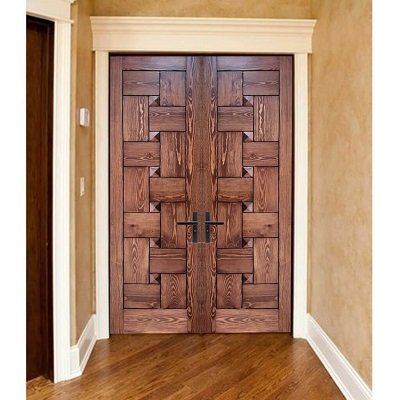 If you are looking for a door that can add an impulse of chic vibe on first look, then opt for the geometric design of the door. A stylish, unique, and cost-effective door is all that you need for the main door!
 Just as certain embellishments lift up the entire outfit, similarly carved wood doors bring gorgeousness to the dull outlook of the house. Compared to the plain white house front door, carved wood doors bring a very traditional vibe to the place. Thus, make your front door very different than your neighbors. 
Westwood Interiors deals in top-quality wooden doors. All the designs mentioned above can be customized as per your requirement. The size and details can be accommodated as per the client's demand. Deodar, Ash, Mahogany, and Imported cane are some of the best materials the brand offers!     
Why Choose Us:
Are you thinking about the best quality doors for your house? Westwood Interiors is open for you and is ready to serve you in a possible manner. Westwood Interiors deals in both interior and exterior doors. With years' long experience in wooden doors, we have multiple types of doors made with top-quality wood. Our services extend all over Pakistan. For more details contact 92-300-389-4217. 
Fill in the form below to request a callback to discuss your move.
[contact-form-7 id="694" title="Request Callback"]
We aim to respond to all quote requests within a 24 hour period Monday-Friday. However, if this isn't the case, please be patient as we receive a lot of emails every day.
[contact-form-7 id="311" title="Free Quote"]
Which of Our Doors is Right of You?

Check Out Some of the Products We Carry