Wooden Door Frame
Stepping out in search to buy a door for your house feels exciting. Once you start exploring, you get to see multiple colors, designs, and textures among a wide range of varieties.
While many people are aware of the technicalities of selecting a door, but still majority are not aware of the critical process of choosing a wooded door frame.
When buying a readymade wooden door frame, there are several little elements to focus on before you decide to buy the selected one. These elements include your subjective choice, preference for the material, and type of door you have in selecting the right wooden frame for your door.
A good deal of vigilance is required in the process because door frames are important, if not more, like that of doors, in bringing out the overall appearance and resilience of the door.
Different types of frames are prevalent in the market. The most common ones include the open door frames and closed-door frames. The only difference lies in the structure, where a closed-door frame comes with a bottom to seal the space between the door and flooring, thus securing the interior.
A lot of you might be wondering about the price! However, wooden chokhat price depends on several factors, including size, material, and quality of the wood you prefer for its manufacturing.
Do you want to buy a wooden chokhat in Pakistan? Have a look at the following designs!
Wooden Door Chokhat Designs
Simple Wooden Chokhat
Simple wooden chokhat has a timeless appeal. A plain and smooth door frame never fails to please the visitors. Despite being plain and simple, this wooden chokhat design still holds the potential to uplift the beauty of your door.
A paneled wooden door with matching polish as the rest of the interior, paired up with a simple yet elegant door frame, incorporates an exquisite and decent vibe to your place. The phrase "Less is more" typically applies to the result of this type of chokhat design.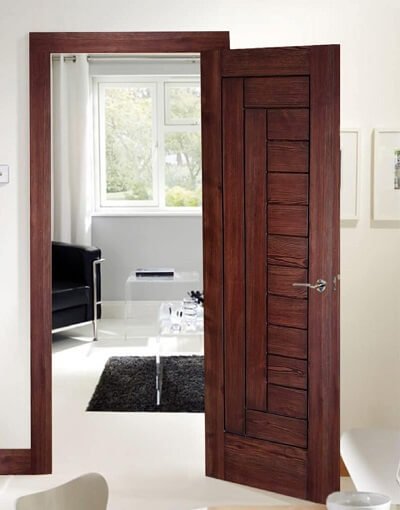 Carved Wooden Chokhat
As the name indicates, this type of wooden door frame comes with an engraved pattern on it. This type of chokhat is mainly used with a royal setup. If your interior gives off majestic and supreme vibes, then a carved wooden door chokhat design is best for any such place.
The carving can be customized as per your requirement. You can either get geometric shapes, flowers, or abstract art carved on the wooden chokhat, thus matching the aesthetics of your place.
Traditional Wooden Chokhat
When it comes to anything traditional, just know that people love it the most. A conventional wooden chokhat design is made by carving vertical lines on the entire wooden frame.
If you look around in your home, you would probably come across the same door frame design. It is because this style never goes out of trend and blends smoothly with every type of door.
No matter whatever the style, all wooden frames at Westwood are made with top-quality wood. The variety included Imported Cale, Ash, Deodar and white pine, etc. You can get customized designs with a polish of your choice as well.
Why Choose Us
When it comes to justifying why to choose Westwood, know that our work speaks of its distinguishable quality. We are the top and oldest manufacturers of all types of wooden doors in Pakistan. Our name stands as leading Pakistani to manufacture high-end doors.
We love to go creative with our client; thus deals in every type of customization as well. For further details, call us at 92-300-389-4217 or visit G3, Jinnah Mall, Izmir Town, Main Boulevard Jubilee Town, Lahore, Punjab, Pakistan
Fill in the form below to request a callback to discuss your move.
[contact-form-7 id="694" title="Request Callback"]
We aim to respond to all quote requests within a 24 hour period Monday-Friday. However, if this isn't the case, please be patient as we receive a lot of emails every day.
[contact-form-7 id="311" title="Free Quote"]
Which of Our Doors is Right of You?

Check Out Some of the Products We Carry