Wooden Sliding Doors Pakistan
Wooden sliding doors in Pakistan are over the top for the past few years. From space-saving to convenience and great appearance, internal wooden sliding doors are of great domestic and commercial advantage.
Whether internal/external wooden sliding doors are both practical and attractive, wooden sliding closet doors are a great addition to any home. These sliding doors can be applied to conceal the wardrobe for enhanced beauty and convenience.
When it comes to wooden sliding doors, the list of advantaged goes on. One of the most apparent advantages is that of space-saving. Where hinged doors require larger space to function, wooden sliding doors operate sideways.
Wooden sliding doors for sale are ideal for usage in areas where space is limited. Thus they are best to beautify a space without overcrowding it. However, the price for a wooden sliding door depends on the type of features and qualities you require.
Using sliding doors instead of mainstream doors adds an immediate modern impact to your home. Moreover, these doors are light in weight and very convenient in their usage. Wooden sliding doors are not just famous for their practical usage, but they provide vivid and unique aesthetic visuals as well. Do you want to know more about them? Read ahead for some impeccable designs.
Wooden Sliding Door Design:
With a diversified range of styles and designs in Pakistan, internal and external wooden sliding doors come in multiple types. These types vary with the kind of material and style and thus are available at different price rates. The catchiest designs are as follows: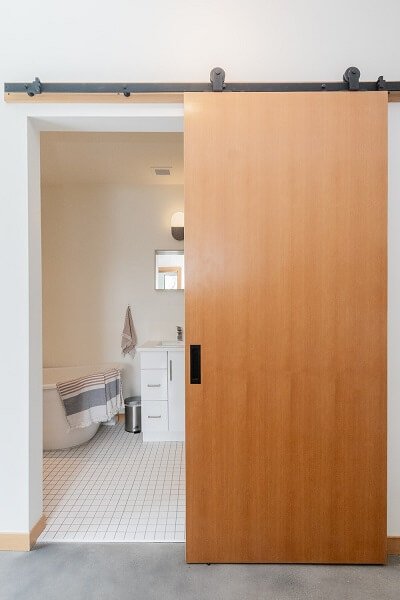 Slatted Sliding Door
The slatted design is currently high in trend and demand—the slatted pattern of the door adds an instantly chic and modern vibe to the place. The slatted design enables one to see across the other side as well.
Thus, this design is suitable for both commercial and domestic usage. In offices, it can add style and allow seeing what's going on beyond the other side of the door.
Traditional Sliding Door
A typical wooden door is used for this design, but its functionality differs from that of a traditional door. As the name indicates, this door opens up in a sliding manner towards sideways.
This sliding door design is ideal to use in the bedroom, for closet doors, or as a separation between the bath and wardrobe section.
Wooden Frame Glass Sliding Door
This is an ideal design for use as an exterior wooden sliding door. This style incorporates a typical wooden frame with translucent glass in the middle. Thus, this can be a perfect entrance door for commercial purposes as well as guest rooms.
To your surprise, all these designs are available for customization as well. With Westwood, nothing can ever stay impossible. These doors can be customized by utilizing high-end and imported Kail, white pine, Mahogany wood, etc. You can also select a customized shade of polish as well.
Why Choose Us?
Westwood Interiors is known as a renowned manufacturer of exclusive wooden doors. The high-end quality and great regard for customers give us an edge over other competitors. Moreover, we believe in making our clients showcase their creativity and thus love to customize designs.
Our services spread across the entire Pakistan. For further queries, contact us on 92-300-389-4217, or visit G3, Jinnah Mall, Izmir Town, Main Boulevard Jubilee Town, Lahore, Punjab, Pakistan
Fill in the form below to request a callback to discuss your move.
[contact-form-7 id="694" title="Request Callback"]
We aim to respond to all quote requests within a 24 hour period Monday-Friday. However, if this isn't the case, please be patient as we receive a lot of emails every day.
[contact-form-7 id="311" title="Free Quote"]
Which of Our Doors is Right of You?

Check Out Some of the Products We Carry